DelStar Search
Search Results for:
663534

| | | |
| --- | --- | --- |
| Manufacturer/Competitor | Alexander Dennis | DelStar Upgrade |
| Part No. | 663534 | 100-412041 |
| Series | C800 | 410 |
| Design | Brushless | Brushless |
| Mount | Cradle | CRADLE |
| Volts | 24 | 24 |
| Amps @ 2000 RPM (Rotor) | 320A | 335A |
| Amps @ 6000 RPM (Rotor) | 525A | 525A |
| Ground | Negative | Negative |
| Regulator | Alt. Mounted | Internal |
| Pulley | - | 8-Groove Pulley |
| Product Specs. | | |
| Technical Bulletin | | — |
NOTES: Internal V. Regulator & 8G-Pulley
The DelStar alternators are extremely efficient and high amperage output. Ensure alternator cables are adequate to handle the alternator output current. Voltage drop between Alternator B+ (Output Terminal) and Battery B+ (Positive Terminal) should not exceed 0.5 Volts drop at full alternator output.
Connections: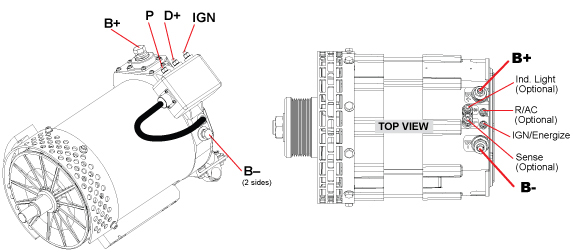 NOTICE: Specifications and connections provided are believed to be correct at the time of publication.
Verify connections before replacing the unit.